NUUO NVR Solo Network Video Recorder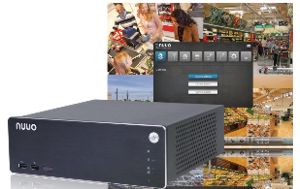 The NUUO NVR Solo is a stand alone network video recorder that supports up to 8 IP cameras. The NUUO Solo NVR uses an embedded Linux operating system to prevent windows crashing and viruses. The max bandwidth throughput allows users to record up to 16 cameras at up to 15 frames per second in 1080P (1920 x 1080) and up to 30 frames per second in 720P (1280 x 720) resolution. The Solo can be controlled from both Windows and the included IR remote control. In addition users can view the cameras from iPhone, iPad, and Android using the free mobile apps from NUUO. The Solo NVR allows users to start with a 8 channel network video recorder and scale up to 16 cameras by adding additional software licenses in increments of 1, 2 and 4 channels.
CCTV Camera Pros has been a master distributor for NUUO since 2007. Learn more about us and buy from a supplier that you can trust!
Before purchasing, please confirm that you cameras are compatible with NUUO. If you are looking for certain features such as Motion Detection or PTZ, confirm it is on the NUUO NVR Solo Supported Camera List.
NUUO Solo NVR Features
Stand-Alone Linux Embedded NVR

Up to 16 channels of IP cameras per Server

Base Models Support 4 IP Cameras

Easy Upgrade of Licenses (up to 8 channels)

RAID 0 and 1 Disk Support

Dual Gigabit Ethernet Ports

Dual Video Stream Support

HDMI and VGA Monitor Output

IP Decoding of 1280 x 720 at 30fps
Windows Client Software for Viewing & Playback

Optical PTZ Support - Users can click on the video
screen to control PTZ cameras

5x USB 2.0 Ports

I/O Support

Configurable Public and Private Views

iPhone, iPad, and Android Mobile Apps

IP Decoding of 1920 x 1080 at 15fps

60Mbps Recording Performance